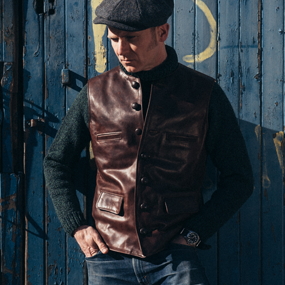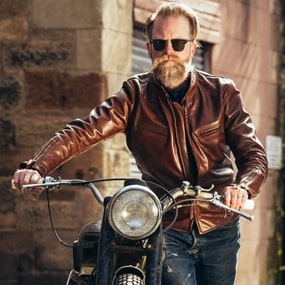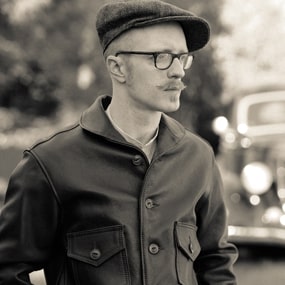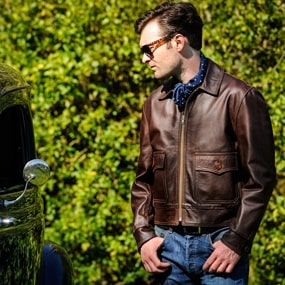 Welcome to the home of the world-famous Aero Leather Clothing. Based in Scotland, we are the manufacturers of what many would call the best and toughest leather jackets on the planet. On this website, you can view our extensive range of high-grade Chromexcel front quarter horsehide, vegetable-tanned full grain Italian horsehide, vegetable-tanned goatskin and steerhide leather jackets. We also offer unequalled recreations of RAF, USN and USAAF military flying jackets.
BULLETIN BOARD
HANDMADE LEATHER JACKETS BY AERO LEATHER CLOTHING LTD
Every Aero leather jacket is hand-crafted on our premises here in Scotland by our highly experienced team.

As enthusiasts are only too aware, many original pieces of vintage clothing have become collector's items, with museum-quality pieces now fetching prices that preclude everyday wear. What is not so well known is that many of these classic items are still available new today – some have been in almost continuous production, whilst others have been lovingly and painstakingly re-created using authentic materials. Since the earliest days of Aero, as far back as 1981, it has been our policy to offer only the very best of these rare gems. Our handmade leather jackets are renowned worldwide for their quality, authenticity and timeless style.

Though we are best known for our hand-crafted leather clothing, we've recently added a range of 1930s and 1940s recreations, including traditional knitwear hand-knitted in Scotland, Harris Tweed trousers and caps cut from 1930s patterns, silk scarves, CC41 shirts and Cord CC41 trousers, plus traditional footwear – all made in the UK. We are also planning to offer more unique clothing from Japan, Europe and USA, along with some special pieces of original vintage clothing (including rare collector's items from the 1930s and 1940s).

AERO LEATHER CLOTHING SINCE 1981